Dry and safe bikeride in all weathers.
Hello
My name is Mikael Kjellman, I like outdoor adventure sports and work as a design engineer. I really like to bike, but where I Iive in Sweden, the weather is not always very bicycle-friendly. So I designed and built a four-wheeled bike with full fabric body to keep dry and warm in all-weathers. I have driven it to work every day for a year now and it has proven to be a very practical and comfortable little vehicle. It is a fun vehicle to drive and I really like to build things. But the big reason for me has been the environmental benefits these vehicles could have if they were made more popular.
I plan to develop a kit based on my prototype, intended for home builders and small pro-builders. It is to design and start production of this kit, I seek your funding's.
Presentation
PodRide is a velomobile that is meant to be a practical every day vehicle. It has approximately the same seating position and seat height as a small car, allowing easy access and good visibility in traffic. It has four wheels to be narrow enough for bicycle paths but still be stable in the curves. It has a full waterproof body to keep you warm and dry in any weather, heated windshield, soft seat with back support, air suspension and studded tires in winter. A small trunk for your shopping bags and a tow bar for a bike trailer when youwant tobring your kids. The motor and control system are from a standard e-bike system and should make it a street legal bike in most countries. And may then be operated on bicycle paths and without a drivers license.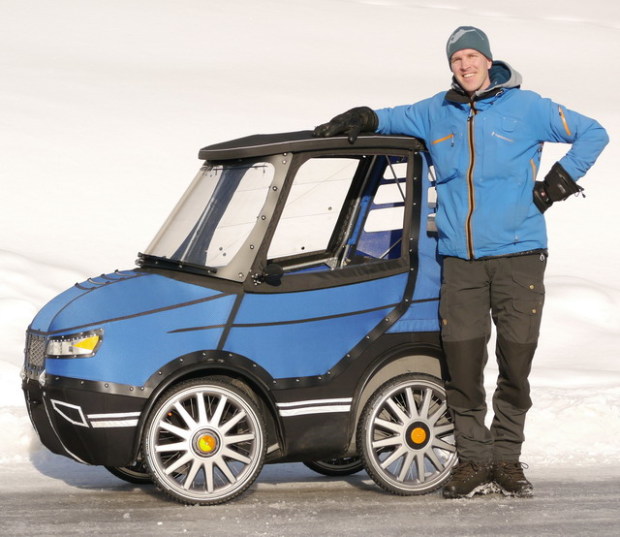 Technical data:
Length:
180cm
Width:
75cm
Height:
145cm
Seat Height:
50cm
Weight:
70kg
Wheel:
20inch tires
Wheelbase:
88 cm
Turning circle:
3,5m
Motor:
250W electric
Gears:
14 speedshub
Range:
60km
Speed:
25km/h (with motor)
Co2 emissions:
7g/km(EU-electricity mix)
(Car 140g/km, Electric car 70g/km)
Bicycle Cars are practical, good for your health, cheap to run, good for the environment and fun to drive. They requires no new and advanced technology to work and they would not cost much if they were mass-produced. Many other bicycle cars have been available on the market for many years but they are still for some reason, an almost unknown vehicle. I think my more car-like bicycle-car concept will appeal to many more people than the low streamlined tricycles that are available today. I hope that by building and running practical, fun and good looking bicycle-cars like PodRide, we can get bicycle-cars to become a popular and mass-produced vehicle.
Planned actions
Reaching: 10 000
Plan one
is to make drawings and building instructions of the existing prototype.
Requires: that a designer puts 2-3 months of work on the project.
Reaching: 30 000
Plan two
is to make key parts available such as wheels and drive shafts which are difficult to manufacture yourself.
Requires: more designwork, find and buy parts, order and test parts and probably buy batches of some parts.
Reaching: 50 000
Plan three
is to make a complete kit with all the parts and materials needed.
Requires: finding manufacturers for all parts, production molds, test build kits and build infrastructure to pack and ship kits.
Reaching: 100 000
Plan four
is to make an easy to build complete kit, no fabrication needed (like a IKEA Furniture).
Requires: redesign ofmany parts and details, moldsand manufacturingtools and more infrastructure for pre-assembly, quality control, pack and ship kits, a lot of testbuilding of the kites and making good instructions.
Reaching: 200 000 or more
Plan five
is to also offer completed kits and start developing a longer version with a small rear seats for children, dogs or more cargo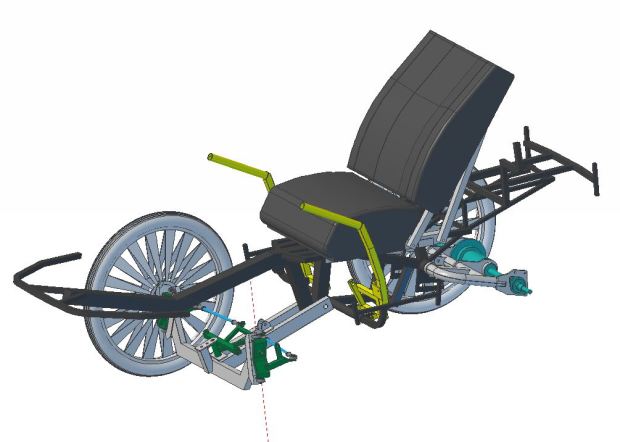 Risks and problems
It is a complex product and most of the parts have to be specially manufactured.
My job is to design and purchasing machine parts but I have no experience in designing and purchasing textile parts.
I'm the only fully dedicated team member today.
The price on the kit may turn out to be too expensive.
I do not have any big resources so if I for some reason must end the project, it is not certain that I can repay all contributions.
The rules on electric bicycles differs from country to country, and some places do not allow 4 wheels on bicycles.
The project is intended to promote practical bicycle cars and can lose much of its meaning if for example Toyota suddenly releases a practical bicycle cars.
This may sound negative but I want to be honest and not pretend that there are no risks and problems. However, I am convinced that I can put together a good team and solves these difficulties and make a great velomobile.
Spread the word
This campaign is designed to raise money, but the long term goal is to promote bicycle cars. So it is equally important to spread the word, show your friends, share online, talk to your local politicians and traffic planners show that this kind of vehicles exist and work.
/Mikael Kjellman
Find This Campaign On
Help make it happen
for PodRide a practical and fun bicycle-car and Mikael Kjellman!